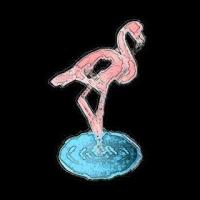 Par Sami Dee - France
Forever More House Music By Sami Dee aka The Flamingo - The Stereo Zone Sessions

Over the course of a musical career which has spanned over 20 years, Sami Dee, aka "Le Flamant Rose" or "The Flamingo", has been a champion of house music in numerous capacities, including as DJ, producer, and remixer.
As a DJ, he's showcased his unique, energetic style in the best clubs in France including 287, Red Light, Rex, Les Bains, Queen, and the Mix, but also worldwide in cities such as Montréal (Stereo, Circus, Beach Club), Miami, London, Prague, Warsaw, Geneva, Zürich, Algiers, and Florence. Another key stop in his vast career was at the legendary Red Zone in New York City, where he had the advantage of meeting the "Boss" himself, David Morales, who tutored the young DJ in the early 1990s.
If Sami Dee is deemed a true master in the art of mixing records, it is also thanks to the radio. He reached this hard-to-earn legendary status first with NRJ, co-hosting "Better Days" with Bibi, during a classic four-year run which saw the show broadcast in France, Switzerland, and Belgium, and most recently, on Radio FG, for over eight years. Today, he's pleasing his worldwide followers through his podcast, releasing unique mixes like only he can.
Furthermore, Sami Dee may be an even more recognizable name as a producer, with over forty original productions and remixes on his résumé. In fact, Sami recorded his first #1 hit in the U.K. with "Something About the Music", under the pseudonym Da Slammin' Phrogz along his radio partner Bibi, and has also twice hit the #2 position on the French dance charts during his career. This led to numerous remixing opportunities over the years for such artists as David Morales, Ophélie Winter, Dimitri From Paris, Farley Jackmaster Funk, and CeCe Peniston.
However, he may be most famous for the ultimate version of Crystal Waters's classic, re-producing "Gypsy Woman 2006" with studio partner Freddy Jones, for Antoine Clamaran's Disco Ball Records, in which he received support from such DJs as David Morales, Kenny Carpenter, Todd Terry, DJ Pierre, and Bob Sinclar. The track has since been licensed numerous times, including to compilations for Cream, Ministry of Sound and Pacha.

Soon after this huge success, he released many productions and remixes on Deep Sound Records (Canada), and started a close collaboration with UK's Accidental Music, run by Morgan King (aka Clubland), for which he remixed original Clubland's classics "Hold on" and "Let's Get Busy" in 2009.

The same year, he signed another classic remix for former Imagination's lead singer, Leee John, and his single "Sensuality" that reached #32 in the US Billboard Dance chart.
In 2011 Sami Dee remixed Kenny Carpenter's new single ( Ex-Studio 54 Dj ), "Heaven Knows", released on Tony Humphries label Tony Records, USA. His new Single with British Performer Charma "Clash Of The Titans" was released that summer on Accidental Music UK and supported by Frankie Knuckles, Kenny Carpenter, Hector Romero and RLP.
In 2012, Sami Dee co-produced 4 songs of David Morales new album "Changes" on Ultra Records, The first single "You just don't love me", "7 Days", "Fall In Love", and "Golden Era" featuring British singer Roisin Murphy released as the third single. He also remixed the fourth single, "Planet Called Love". Sami Dee and David Morales teamed up as The Dripmasters to remix the all time classic "In de ghetto", released on the world reknown DJ Chus "Stereo" imprint.
In march 2012, Frankie Knuckles asked Sami Dee to edit his latest Director's Cut project featuring B.Slade, "Get Over U", knowing his skills in the studio. The result held the #1 position on the Traxsource Top 100 for eleven days in a row.
Later on that year, Sami Dee was back in the Remix with his old time friend Bibi for Morgan King's "Free" on Accidental Music UK. In Summer 2012, he released 2 singles "There Is No David Getha Tonite" and "We're comin' from Chicago" on Mjuzieek Digital Records, Austria. This successful collaboration with the famed Austrian label led to even more releases, including the classic remixes of Ce Ce Peniston's "Eternal Lover" and a new original production, "Greta Garbo's Eyes". More tracks are already set to be released very soon.
After more than 20 years in the game, Sami Dee is still one to be reckoned with, both in the DJ booth and in the studio. Having gained accolades from some of the biggest names in the business and having worked for legendary artists, he's not one to rest on his laurels. He's still pushing his music forward, while paying homage to the roots, producing new gems in his unmistakable style.